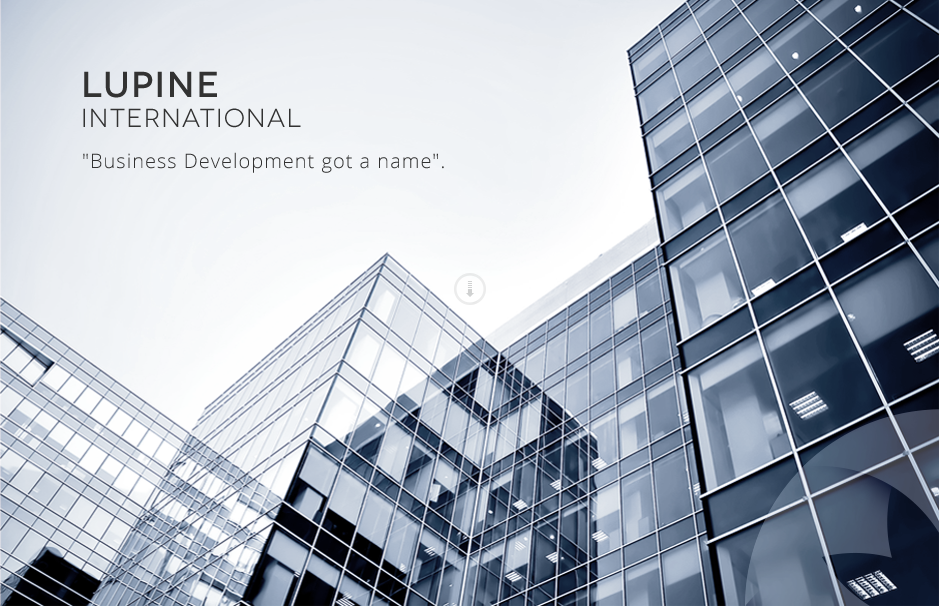 Services "LUPINE Internationals" main activities are:
Market Entries:

LUPINE International supports you with your market entries abroad, especially for German speaking SME companies to enter Eastern European markets or vice-versa, but also for other European companies to enter new international markets such as Africa, South America or Asia. The main services include turn-key solutions for production- and service companies, patents, license distribution and representation, location selection, creation of market entry strategies, real estate, green- and brown field constructions, project identification, studies and implementations.

Start-Up Advisory:

Our company supports Start-Ups with their selection of venture capital and to position it on the market. Main support we deliver via creating business- and marketing plans, strategy development and implementation, financial advisory and support for all types of external funding.

Project Financing:

LUPINE International is the official representative of one of the top 20 financial institutions worldwide, with access to investment banks, private investors and equity funds, having over 100 billion USD under management and billions available for equity investments and M&A transactions. We are offering conditions, which are highly competitive, lucrative and easy to follow.

The main focus for potential projects worldwide – preferably, but not mandatory, above 100 mill USD - in the following fields:

All kind of feasible industrial projects (i.e. equity investment, private placement, debt& equity funding or JV)
Infrastructure: harbors, airports, highways, railway (i.e. turnkey solution including financing and EPC or BOOT contracting)
Real Estate: residential and commercial real estates such as five star hotels or shopping centers
Energy: hydropower plants, all types of renewable energy development
Mining: all kind of mining projects
Joint Venture Investments; Public Private Partnerships (PPP) development;
About us A LUPINE is considered to be a frontier plant and has shaped new landscapes in environments other plants could never have existed.
And that's how we consider ourselves: frontiers in new emerging markets, creating new business others are still waiting to enter – so, business development got a name: "LUPINE International" s.r.o.
Our services reach back to 1980, where LUPINE International had its first footprints in Sao Paulo, Brazil, offering engineering and industrial consulting with a special focus on the pulp& paper industry. With activities in the meantime from Sweden and Germany, we are operating in the European market since 2012 from Bratislava, Slovakia.
Get in touch We work with seasoned experts of all kinds of industries to offer you the best expertise, service and support for your business. We are looking forward to engage with you, just send us your business inquiry to:
INFO@LUPINE-INTERNATIONAL.COM